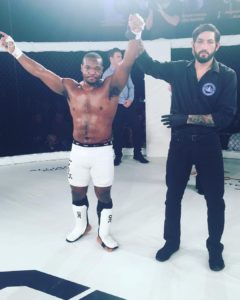 The future looks bright for rising star Dan Tolbert, as the former college wrestling standout at Lock Haven University won his 3rd straight MMA fight via Unanimous Decision.  He took on a tough, game opponent in Andre Petroski, who was undefeated as well and had a huge crowd there cheering him on.  Tolbert, aka Chocolate man(a nickname he recently received while training Muay Thai in Thailand at the prestigious Sityodtong Gym), did not let the unwelcoming crowd steer him from his goal.  Dan looked calm, composed and like a seasoned fighter throughout the entire fight.
Round 1: Mostly a feeling out process in the first minute, with both guys trying to get their range down. Dan landed some nice leg kicks, and Andre did a nice job of controlling the cage. With 30 seconds left in the round Dan caught a kick and took him down with a impressive slam and then controlled on top as looked for a triangle set up.
Round 2: This round was all stand up with both guys having their moments.  At one point they both connected on each other and both guys smirked and touched gloves afterwards. Andre landed a heavy cross on Dan and then Dan returned with a cross to the body that looked painful. Close round but Tolbert landed a little bit more.
Round 3: Dan started the round of keeping his range well and a looking for some leg kicks. 40 seconds into the round Andre was relentless with a head on the inside single and eventually got the finish with a nice trip.  Dan looked a little winded being on his back, most likely an adrenalin dump, but was eventually able to get back up and start looking to strike.
Dan gets the nod, with all 3 judges scoring the bout 2 rounds to 1 for Chocolate man.
Other notable wins from the Cage Fury Fighting Championship 62:
Chris Daukus wins a decision over a tough opponent in an exhausting back and forth battle.  Both guys were attacking leg locks and Knee bars which is rare to see from heavyweights.
Young Joe Solecki improves to 2-0 after finishing his opponent with a rear naked choke in the first round in under 3 minutes. The young brown belt is making his way up the ranks fast.
Mike Pope, a former Algeo opponent, became the 155lb champion last night defeating Pittsburgh's Mike Wilkins with an extremely tight guillotine choke. Pope ended up thanking Algeo for defeating him back in 2014, because it was the motivation he needed to get better.
Sean "Shorty Rock" Santella defeated a game opponent in Matt "SMG" Lazano to become the 125lb champion. Both guys had a ton of people there and it was an entertaining fight. Shorty Rock started to dominate and then secured a rear naked choke to get the Belt.