All of the Thai Boxing trainers at Algeo MMA are very friendly, welcoming and knowledgeable.  In fact, you would never realize quite how dangerous they are when you speak to them.  However after watching the instructors fight these last 2 weekends you can see how skilled they are.
It started with the debut of Thai boxing trainer, and Kids class instructor Julia Hopkins.  Julia fought her first fight with the Warriors Cup organization at the 2300 arena in South Philly.  Julia made weight easily and had a huge crowd to support her.   Everything about her was confident from the warm up to the final bell.  She had a tough opponent from 8 limbs academy who had some experience on Jules.  This fight was a back and forth with Julia landing some solid punches and her opponent scoring from the clinch.  Judges gave the bout 29-28 Julia, 29-28 Margie (her opponent), and 29-29 declaring the bout a draw. This was a great starting point for Julia and will bring her a ton of confidence going forward.
Now we move onto Irv Althouse's event with USKA that had 3 of Algeo MMA's Thai Boxing trainers fighting on the card.  Irv runs a Muay Thai/Kickboxing event every couple of months and a majority of Algeo MMA Thai Boxing trainers have fought for him.  He provides a great local outlet for guys and girls to show of their skill and has a lot of top talent fight on his shows.  This event had Philly's Justin Greskiewicz vs Canada's Ben Pride fighting for welterweight championship as the main event.
Friendly and Deadly Thai Boxing Trainers
First up for Algeo MMA Thai Boxing trainers was Raymundo Chavez.  Ray fought USKA rules, aka not as much clinching, against a Grant Swift who fought out of Gracie 717.  Raymundo looked sharp in the first round giving punches and kicks from different stances and chaining some nice combinations together.  2nd round was similar to the first with both guys starting to find their range. 3rd round Grant was more of the aggressor but both guys had their moments in the exchanges.  Raymundo won a unanimous decision 29-28 to improve hes record to 2-1.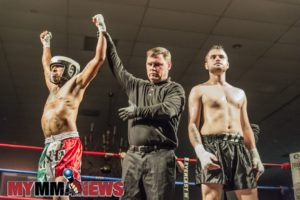 Second up was the debut of long time student Sean Morgan as he fought a Chris Johnson at 205lbs.  Chris had a record of 1-1 and was fighting out of Etchfit.  Sean had the composure of a seasoned pro throughout the entire contest and warm up.  First round starts with both guys measuring their range and then Sean capitalizes with some brutal knees from the clinch seen here.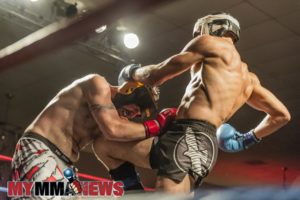 Sean missed a right mid-line kick to Chris' body and came back with a sharp side kick that dropped his opponent.  The ref ruled it more of a slip than a knockdown although Chris was noticeably hurt to the body after.  Chris started to pinch his elbows in a bit to cover up his body and that's when Sean decided to kick upstairs with a heavy rear head kick.  This kick hurt Chris but he was able to tough it out and stay alert, however Sean followed this up with a lead head kick that put Chris on the canvas again.  This time it was considered a knockdown and the ref gave Johnson a standing 8 count which ended the first round.  The second round starts off with more vicious knees from the clinch from Sean and seemed like the finish was imminent.  Sean throw up a quick, lead head kick which knocked his opponents tooth loose to finish the fight in fantastic fashion.  Sean improves his record to 1-0.
The 3rd Thai Boxing trainer from Algeo MMA to fight was Daniel Inch.  Dan had made a lot of sacrifices for this fight including not eating or drinking anything fun on vacation with his family the week before the fight.  This was a Muay Thai fight at 144lbs against a David Harr from Next Level Martial Arts.
Dan starts the first round off looking composed and comfortable in both stances.  Harr threw more punches but Dan landed harder punches to face and body.  Both guys had their knees flying throughout the clinch but Dan scored some nice leg kicks as well.   The 2nd round was a close round that could've been scored either way with both guys having their moments.  Dan was able to slip some big right straights from Harr and was able to let his left leg fly from the southpaw stance.  Harr was aggressive and seemed comfortable in the clinch.  3rd round was also a very close round with Dan switching back to orthodox for a majority of the round.  Harr was able to press the action a little more this round with punches and clinch knees.  Overall great showing from both men, with Dan landing some big shots and getting a split decision victory.  Dan improves his record to 3-1 and left pretty much unscathed from serious injury.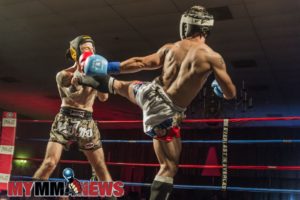 Regardless of the outcome, the Thai Boxing trainers at Algeo MMA are dedicated martial artists that strive to improve.  They are always willing to spend time with any student to get them closer to their goals. Visit www.algeomma.com to learn from these guys for 2 weeks totally free, you won't regret it!