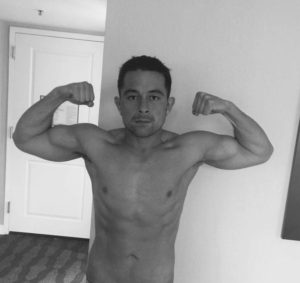 Dan Inch Fights Thai Boxing this Saturday
Long time Thai Boxing student Dan Inch will be fighting this Saturday 1/21 in Pottstown PA, under the Full Metal Fight Promotions.  This Kickboxing event will be held at The Wyndcroft School (1395 Wilson st, Pottstown PA 19464), and will start at 7PM. Tickets can still be purchased through Dan or at the door if he runs out.
Long time student/coach Ray Chavez was supposed to fight on this card as well, but unfortunately, his opponent had cold feet last minute.  Luckily Coach Ray will be fighting for USKA in March and will look to improve to 2-0.  Full Metal Fight Promoter/Owner Jason Helfin is putting this fight card together and was also trying to match Julia Hopkins, an Algeo MMA student, with an opponent.  Unfortunately 2 women with more experience turned down the scrap with Julia, probably because they value their health and well-being, so she won't be on this card.  Julia will look to make her Thai Boxing debut when she comes home from studying abroad in Europe.  We are all really excited to see her compete.
Coach Dan has been  a student in King of Prussia for the last 5 years.  Since then he has lost 85lbs and built a Muay Thai Boxing record of 2-0.  Both of his victories came by decision and were in the same weekend last May in New York.  Recently Dan has begun to coach more and more at Algeo MMA while training for a fight, working full-time and being a full time dad of 2 great kids.  He is a great role model and an excellent example of true hard work, respect, and humility.  "Sinchai", has made incredible strides in his Muay Thai, whilst transitioning to an overall healthier lifestyle.  Come support Coach Dan this weekend!